Toledo Bend Cabin Rental
Enjoy your next trip to Toledo Bend in this brand new 3BR/2BA 2000sf lakefront home. The Toledo Bend Cabin is located off Little Flock Road just south of Big Bass Marina and just north of Kite's Landing. If you know the lake well, Harper's Bend is right out in front of the cabin. The evening sunsets from this cabin are unable to be beaten. In fact it is over 3 miles of clear, unobstructed view of the sunset from the deck of the cabin. Here are a couple of live camera views from the cabin's deck:
Straight out in front of you is the area of Toledo Bend Lake known as Harper's Bend. Further in the background is the Pendleton Bridge, and just to the right of that is Cypress Bend.
Toledo Bend Cabin Live Camera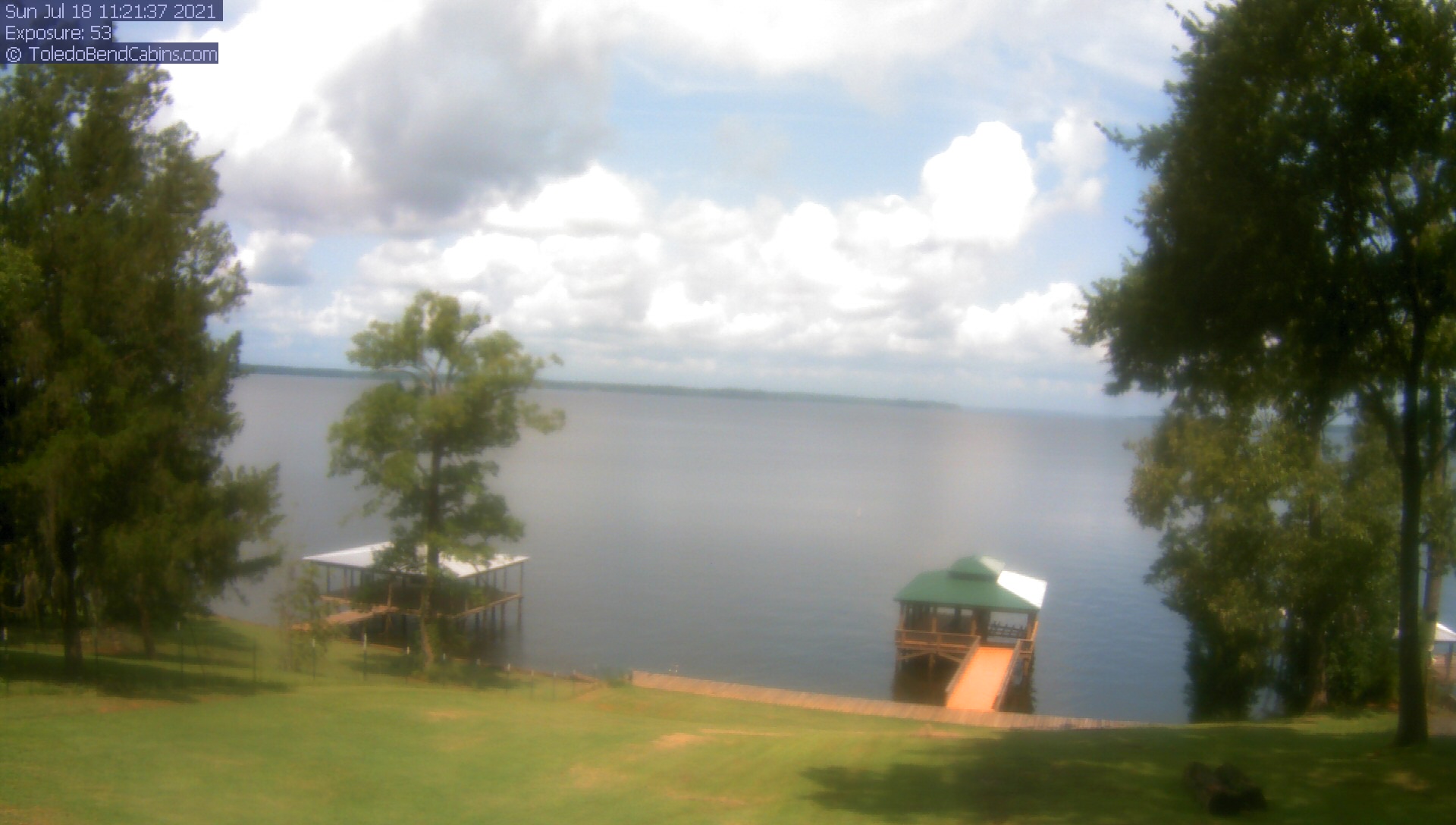 The rates to reserve the cabin are $369-$399/night during normal dates, and $599/night on holidays like memorial day, 4th of July, Labor Day, Thanksgiving, and Christmas/New Years. There is also a one-time cleaning fee of $150 and Sabine Parish taxes are 12.075%.  If you would like to reserve the cabin you can call (318) 272-0951 or online through our reservation page: reserve the cabin
It took us about 4 years to find this beautiful property. There are lots of places for sale on Toledo Bend, but for us the view had to be just right. We found several places that would have been great, but unfortunately the HOA and deed restrictions didn't allow people to rent the property. This is something to watch on Toledo Bend. Just when you think you've found the perfect property there might be a draconian deed restriction or HOA that does not allow owners to rent their property. Many of the owners that you see renting properties on Toledo Bend are doing so against the rules of their deed restrictions and HOA.
Here is a video tour of the Toledo Bend Cabin:
Playing on the Water in Front of the Cabin
Give us a call to book Toledo Bend Cabin (318) 272-0951!
***